2014 Horsemanship Clinics and Husband-Saver Christmas Gifts!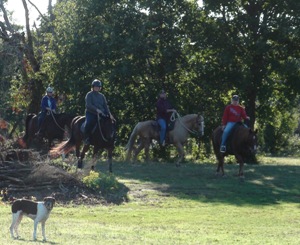 I will have lots to share with you in my Spring 2014 Parelli Natural Horsemanship Clinics! I am going to ride with Linda Parelli again for the month of January in Florida. Pat and Linda are constantly sharing with us the best ways to teach, and their latest discoveries after riding with, learning from and teaching the top horsemen and women in the world.
I am very excited to take the Horsenality/Humanality Course with Patrick Handley and Linda Parelli the first week in February. I'll have lots of effective strategies to share with you to help you deal with different issues that you face with your own horses.
I have really enjoyed watching the Four Savvys DVDs, On-Line and Liberty. The lessons with Pat teaching Parelli students are fabulous. They remind me of all the wonderful courses I've taken with Pat over the years since I became an instructor in 1997. The DVDs show Pat doing what he does best — helping students bond with their horses and get more effective to get better results. If you haven't had time to watch the DVDs, come to one of my clinics, and I'll help you learn to use Pat's principles, techniques and psychology to take your horsemanship to the next level!
I'm also excited to announce that I have been chosen to teach the Three-Star Instructor Course at the Parelli Center this Summer. I will spend five weeks at the Parelli Ranch in Colorado honing these Instructors' Horsemanship and Teaching Skills. One of my tasks is to prepare them to help teach the Level 4 Course in Colorado this summer.
Summer is action packed! I will be teaching Game of Contact in Norway, Sweden and Bend, Oregon in July. I'll be riding in two Parelli "Future of Horsemanship" Tours.
Husband Saver – Last Minute Christmas Gift!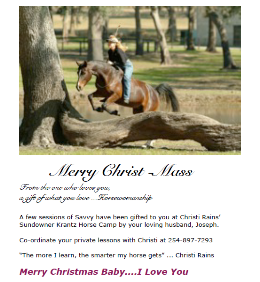 It is exactly what you want !
He doesn't have to wrap it !
It doesn't have to be shipped in !
It won't be late !
He doesn't have to worry about size !
Hint Hell…just forward this email to him and TELL Him "THIS IS WHAT I WANT" !
Give her the gift of savvy and safety…a pre-paid horsemanship clinic with Christi Rains. She will receive a beautiful horse picture individualized just for her! See example at right (click to enlarge photo).
Pay in full for your clinics before January 31st and save with our Early Bird Special!
I hope you will come ride with me this Spring. Keep checking back with my schedule as I will be adding more classes for the Spring in the next few weeks. Let me know if there is a clinic you would like to ride in that you don't see on the schedule. We are adding more subjects now and welcome your input.
Have a Merry Christmas, Happy Hannukah and the Happiest New Year ever!
Happy Trails,
Christi Rains
Please follow and like us: