Challenge – Can You Bridle Your Horse From His Back?!?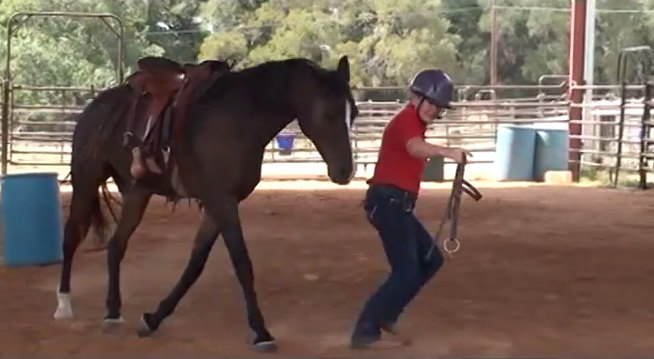 Can you bridle your horse from the horse's back?  Will your horse be a willing Partner and  help you in the process?  And why would you want to do such a silly thing?
My teacher, Pat Parelli, believes that learning should be fun for you and your horse.   Pat issues fun "Can You" Challenges to us, not for the sake of the challenge itself, but for the learning process that we have to go through to solve the puzzle.  You have to improve the relationship with your horse in order to be successful.  If you get the horse's Respect and Trust, he will do anything for you.  When I first attempted this task with Cameo, my first horse through the Parelli program years ago, I was a direct line thinker.  I got on her back and started wrestling with her, trying to get her to cooperate.  But I hadn't done the prior and proper preparation to cause it to be her idea.   I got it done, but it wasn't pretty.  I didn't teach Cameo to bridle herself first.  If you will watch this video with Annie, you will see that Annie bridles herself with enthusiasm!  This made the task easy the first time I tried it with her.
Develop a better Relationship with your horse based on Respect and Trust.   Come ride with me in one of my Parelli clinics and I will show you how to fell safer, have more fun and get better results with your horse.
View the current clinic schedule here – http://www.christirains.com/clinic-schedule/
Hope to see you soon!
Christi
Please follow and like us: