Fall 2013 Parelli Clinics – News From Christi Rains
New Parelli Clinics Offered – Now Certified To Teach Game Of Contact!
Just got the word from Linda Parelli…I am OFFICIALLY CERTIFIED TO TEACH GAME OF CONTACT and ADVANCED GAME OF CONTACT!!!!!!!! I am beyond thrilled! There are currently only four of us in the United States. I am so excited to be able to share this incredible information.
Check out the Parelli clinics on the Clinic Schedule page to find a clinic near you.  There are numerous locations across the country scheduled for 2013.  If you'd like to host a Game Of Contact clinic, you can contact me directly to set one up.
New DVDs Featuring Me & Annie!
The May Issue #28 Mastery DVD on Flying Lead Changes features Annie and me in a lesson with Linda Parelli. Linda shows us how to build toward Finesse Flying Lead Changes using the energy of the gallop in two-point. It's a blast!!!  We are also featured in one of the lessons in the new BioMechanics DVD with Colleen Kelly coming out soon.
New Blog Series Featuring Me & My Horse Sonny
My young horse Sonny and I are featured in Lisa Carter's new blog series "A Prescription for Parelli".  Sonny and I demonstrate how to teach your horse exercises and games used within the Parelli program that can be therapeutic for your horse.  Visit Lisa's website www.heavenlygaitsequinemassage.com to learn more about how using Parelli Natural Horsemanship can help your horse become more balanced and athletic.
NEW – CR2's Savvy Web Tips!
In order to better help you succeed with your horsemanship goals, I'm posting some video quick tips on YouTube covering common issues that students encounter on their journey through the Parelli Program.  If you have a topic you'd like discussed in a future web tip, please feel free to contact me directly.  See the current Web Tip on the home page.
2013 Schedule Available
My 2013 schedule is now available on-line. The first Parelli clinics of the season will begin in March!  See my clinic schedule for dates.  If there are any clinics that you would like to see this year that I don't already have scheduled, please contact me and I'll try to accommodate it into my schedule.  I am also offering private and small group lessons on the Friday before the 2-day clinics by appointment.
No Excuses!! Series FastTrack Prep Courses
The "No Excuses!! Series is designed to help students progress.  Have you ever been stuck in a rut, unable to reach your goal, or even play with your horse?
Do you run out of time while trying to scratch all the "to-do's" off your list? Does that list keep getting longer and longer?
Do you tend to do the same things over and over with your horse, never really making progress?
IT'S TIME!!!!! NOW!!!! LET ME HELP YOU LIVE YOUR DREAMS WITH YOUR HORSE AND IN YOUR LIFE!
Let's get together and discuss short-term and long-term horsemanship goals for you and design a plan to help you accomplish them.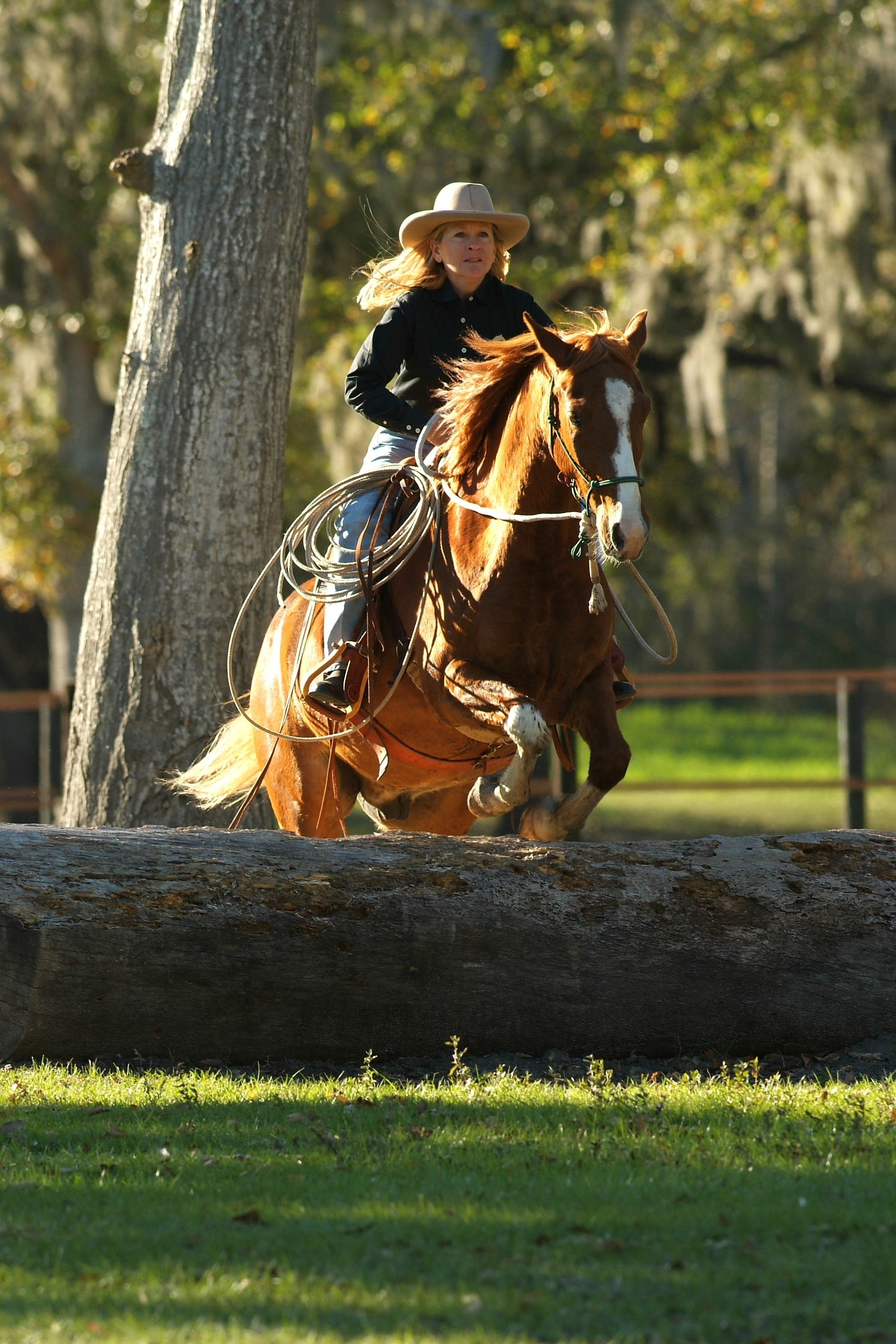 Students in my series classes make much better progress.  Not only do they get timely information and coaching on a regular basis, they say the classes are motivating, as they know they must show improvement from one month to the next. They develop strong friendships with the other students, and learn from each other in the process.  And you get to trail ride with friends on the beautiful Brazos River.
The classes are monthly from March until June.  If you sign up for more than one clinic, you will get a discount on pricing.
Sign up now by filling out the Registration Form and sending a $250 deposit.
Several discount options have been added this year, so visit my Clinic Info & Fees page to see the new rates and discounts. Clinic fees include a pen for your horse and lunches for you on Saturday and Sunday.  CR also often cooks an evening meal on Saturday for the group.
See you on the Brazos!
Happy Trails,
CHRISTI RAINS
Licensed Parelli 4* Senior Instructor
"The more I learn, the smarter my horse gets!"
Please follow and like us: