Follow Your Dream – Level 3-4 Freestyle And Finesse Clinic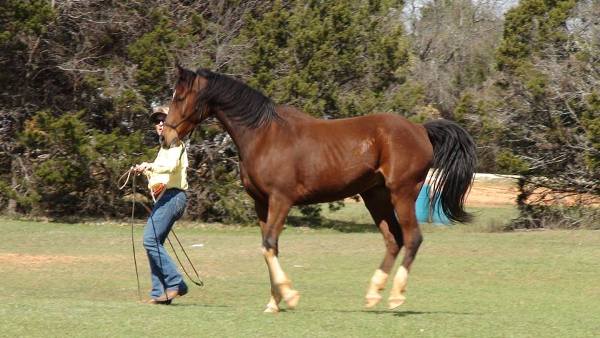 Are you feeling a little stuck with your riding? Here is a riding clinic to help you advance.
Finesse Training Sequence (prerequisite: working on Level 3 or 4 in Freestyle)

I am seeing big smiles on my students' faces, and Rhythm and Relaxation in their horses after playing with Linda Parelli's new Finesse Training Sequence. Often, when we try to put a horse in a Frame, horses get claustrophobic. They may display displaced behaviors, even in horses ridden at a high level of competition — head tossing, champing the bit, evading the bit, swishing tails, tongue out or over the bit, etc. Horses get anxious, emotional, angry. Linda's brilliant system introduces the frame to the horse one piece at a time, zone by zone, and helps them develop Rhythm and Relaxation even as they learn to be ridden with Finesse.
We are the lucky beneficiaries of Linda Parelli's years of study with Pat Parelli, Walter Zettl, Christoph Hess, Luis Lucio, Mette Larsen and other top riders, teachers and trainers around the world. Linda has developed a system based on the knowledge and experience she has gained from years of study with Master Riders, Teachers and Trainers. The Finesse Training Sequence is brilliant in its simplicity and effectiveness in teaching students and horses the difficult concepts of Finesse.
Freestyle Riding (prerequisite: working on Level 3 or 4 in Freestyle)

Freestyle Riding helps us develop an Independent Seat, Impulsion and the Seat Connection you will need for higher level riding, whether your purpose is showing, working on the ranch or riding the trails. We will ride Positive Patterns and demonstrate strategies to help you get the connection you need to feel safe, have fun and excel with your horse. If you are ready, we will challenge you with One Rein Riding, Carrot Stick and Bridleless Riding.
I look forward to sharing with you the Principles, Concepts and Strategies that I have learned riding with Pat and Linda Parelli over the last twenty years. We'll be focusing on these concepts during our Follow Your Dream Series Clinic. The next one is scheduled for April 25-26, 2015. Come join us!
Happy Trails,
Christi Rains
"The more I learn, the smarter my horse gets!"
Please follow and like us: