Liberty Fun – Can You Be Entertainment For Your Horse?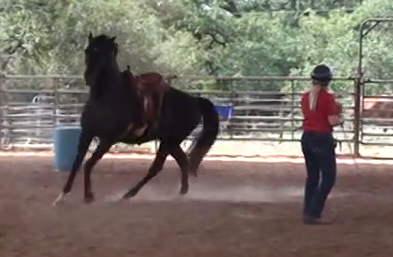 "What do you have when you take off the lead rope?  — The Truth!!"  —  Pat Parelli
Liberty teaches you "when to be", "where to be", "why to be" and "what to do when you get there".   Often, we don't realize how much we maul horses around with the lead rope and hide our mistakes.  When you no longer have that lead rope attached, does the horse still want to stay and play, or does he escape at the first opportunity?   My teacher, Pat Parelli, says "Your horse is entertainment for you…can you be entertainment for your horse?"
The following video shows my LBE gelding, Sonny, at play.   Sonny is very exuberant at Liberty, and teaches me new things all the time.   I taught him to lay down at Liberty, but he taught me the next step — He will sit half way up and I can say "Bang!" and he will fall over and play dead!   It's one of his favorite things to do and you will see him offer it over and over in this video.  He will do it for half an hour if I stay and play too.
Would you like have more Fun with your horse?   Would you like to feel Safer and get better Results?   Sign up for one of my Parelli clinics and we'll show you how to live your Dream with your horse.
Please follow and like us: