My Power Lesson on Hot Jazz with Linda Parelli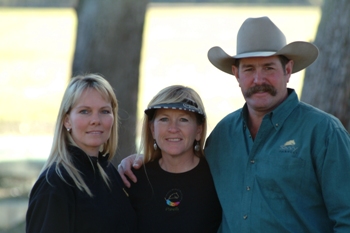 In January/February, I had the pleasure of riding with Linda Parelli for five weeks. One of the many highlights of my time with her was getting to take a lesson on her beautiful Oldenburg, Hot Jazz. Annie and Stetson made huge changes while I was there in learning to use their whole bodies and drive with the hindquarters. But Linda wanted me to feel the next step in developing POWER in my horses.
Linda had been riding Hot Jazz and had a wonderful session on him, getting him powered up but connected. When I mounted, we walked a circle around Linda, then she asked us to trot. Jazzy is VERY sensitive. It was a thrill to feel him step right into his big trot. It kept getting bigger and bigger as we circled. I took a little on the reins and it got MUCH bigger in a hurry. Linda asked me to rate him back a little. I must have had a lot of energy in my butt, because he kept getting faster and faster. Linda told me as we were racing around that taking on the reins means POWER UP MORE to Jazzy. I thought at one point he was going to levitate! Linda said Jazzy ran away with the last student she put on him!
As we circled, I began to experiment with softening different parts of my body — my legs, my arms, my back, etc. A slight release on the reins and breathing out got a big response from Jazzy. He started to develop more relaxation in his trot. Finally, we began to feel more in sync. The trot was still big, but more rhythmic. The more I relaxed, the more he relaxed, but never lost his drive. I was able to appreciate what an incredible job Linda has done in training Jazzy. It was like driving a Ferrari. He is incredibly willing and instantly responsive to the tiniest whisper of a request.
I'm so happy that Linda allowed me to feel Jazzy's responsiveness and FORWARDness. I read in one of her subsequent posts on Parelli Connect that after her lessons with Christoph Hess in February, she learned that Jazzy was only using 60% of his potential for FORWARD! Wow! Look at Linda's Parelli Connect page for pictures and more information on her lessons with Christoph. Linda and Christoph also filmed a followup DVD set that shows how to put Scale of Training to a purpose. I can't wait to see all the new information!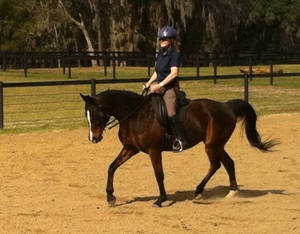 Since my time with Linda, Annie is moving more powerfully at the trot even in the pasture. She enjoys the feeling of using her hindquarters. We are still developing Stetson's strength, but he is also offering a bigger, more forward trot than before. Linda says that often we tend to restrict horses too much. We don't trot forward often enough. It can release endorphins and actually relax a horse to be able to MOVE!
If you are not comfortable trotting your horse forward, try it on-line first. I will take Stetson out in the pasture and allow him to get on adrenaline a bit, then he offers the forward trot or canter, when it might be lazier in the arena. Sometimes, horses don't know how to handle all that energy at first and may want to buck and play. That's another good reason to try this On-LIne first.
Come ride with me and I will show you more of what I learned from Linda and Pat Parelli recently. They are amazing. They always have so much knowledge to offer.
Happy Trails,
Christi Rains
4-Star Parelli Natural Horsemanship Senior Instructor
Please follow and like us: