Christi Rains is a Licensed Parelli Natural Horsemanship 4-Star Senior Instructor, located near Glen Rose, Texas. Christi's 2 & 3 day natural horsemanship clinics are scheduled throughout the year to help the horse owner and professional with proven problem-solving strategies and to develop better communication and leadership skills with their horses. In Christi's horse training clinics, you will learn how to read your horse's behavior and interpret that behavior based on the Parelli Horseanality Profiles, and then learn the appropriate horse training strategies to fit each horseanality trait. Behavior problems disappear and you'll have fun while training your horse safely. You can improve your relationship with your horse today and learn why Christi says…
"The more I learn, the smarter my horse gets!"
4-Star Parelli Instructor Christi Rains – Liberty Horse Training
5-Star Parelli Instructor David Lichman issued a fun challenge to us at his last clinic: "From how far away can you call your horse?" I can call my herd galloping in from the other side of the 100 acres to the barn. But, I thought, could I call them AWAY from the barn and food at Liberty?My husband, CR, and I set up our Flip video camera out at the ravines, 176 yards out into the pasture. From there, unrehearsed, I called Sonny and Rusty, and they came out at the gallop to join us, where we had a fun Liberty session.This was filmed at the Rains ranch near Glen Rose, Texas. Music by Mary Ann Kennedy: http://ow.ly/6fSu9
Come join her for a clinic at her beautiful ranch, Sundowner Krantz, on the scenic Brazos River near Glen Rose, Texas, or schedule her to come to your location. Learn about how to schedule a Parelli Natural Horse Training clinic with Christi by visiting her Clinic Info page.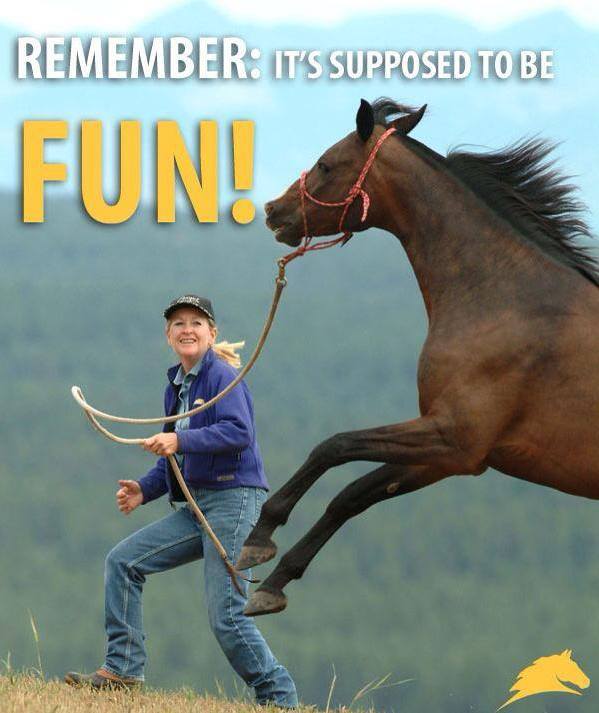 Read more student testimonials here
First of all, I am struck by Christi's skill with horses and their people. She obviously knows the skills she is teaching backwards and forwards. She is there to teach the ENTIRE time and never fails to be able to communicate the steps necessary to acquiring a particular skill clearly and safely for both the horse and rider, no matter what strengths/weaknesses/habits/etc. we bring to the table. Christi seems to be able to effortlessly work with a variety of skill levels at the same time. Her ability to adjust and be situationally creative while keeping the entire group engaged and learning are remarkable.
Secondly, Christi creates an incredible learning environment. I believe only a very gifted leader could be as effective and inclusive as she is. It doesn't matter how long someone has been doing Parelli, how experienced or less experienced the person or horse is, whether they are having an easy time of it or struggling with a lesson, how fancy or not someone's horse is, etc. , Christi treats everyone equally with respect and a commitment to their learning. In this culture of competition, I find it so refreshing to be in a situation where everyone and every animal is valued.
Finally, possibly as a result of the first two points, there is a synergy in her clinics. By being so skilled and so inclusive, the sum of our efforts seems greater than our individual efforts. By modeling that we can ALL learn something from EACH other and that we are ALL capable of improving our horsemanship Christi creates something in the group dynamic that is difficult for me to name, but it is a sort of synergy where the sum is greater than its parts. Christi creates a very high level of safety (physical, mental, emotional) for each person and horse, which brings out the best not only in individuals but in the entire group. It's hard for me to put into words, but it feels very intentional and inspiring and synergistic.
So, while there are certainly other wonderful and amazing things to share, I felt that these particularly standout from clinics, classes and instruction I have had in the past. I feel like I have found someone not only capable of teaching me how I want to be with horses, but in the best way possible. It feels good to be in such an empowering atmosphere for humans and animals alike.
Thank you Christi Rains !!!
Sincerely,
Louise Texada – Shreveport, LA
---
photo by Coco