Flying High At The 2014 Parelli Savvy Summit!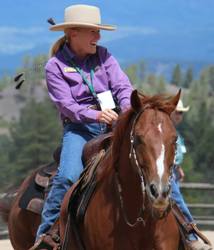 What a whirlwind! Annie, Stetson and I just got back from spending an entire MONTH at the Parelli Center in Colorado and the Parelli Savvy Summit! I was so honored to be able to teach the 3-Star Instructor Course in August. What a great opportunity to work with the up and coming Instructors that will be spreading the Parelli dream across the country, and the world.
At the Parelli Summit Annie and I were excited to be chosen to do a Spotlight performance. Annie was so in tune with me, I was very proud of her! I finally got a picture of Annie and me jumping the picnic table bareback & bridleless thanks to Hannah Phaup! And riding a cutting horse with Doug Jordan was was just thrilling. What a rush and to have it caught on camera.
I was lucky enough to take some great lessons with Linda Parelli.  She is developing her own training system based on the Scale Of Training and her lessons from Walter Zettl, Christoph Hess, Mette Larsen and others.  I just started watching the new DVDs Parelli introduced with Linda and Christoph Hess:  The Scale Of Training In Action – Practical Exercises For Everyday Riding
I can't wait to get started with clinics this Fall and share all these great experiences with you all!  I hope you'll join me for one of my upcoming Parelli Clinics.  Our first clinic of the Fall is on October 4-5, 2014 at our ranch, Sundowner Krantz, just outside of scenic Glen Rose where we'll help get you through any trouble spots and closer to your goals with your horse.  There are still a few spots left in it for Level 2-4 students and also in our Liberty & Horseanality Clinic in December. Playing with your horse at liberty can be such a magical experience.  It's the ultimate test of your relationship.  I will coach you individually in the round pen, and we will play some fun games as a team to take our group liberty to higher levels.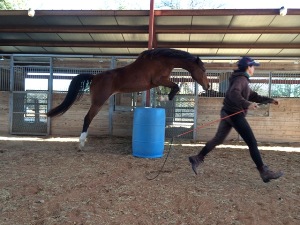 Nancy E. and Mi Stardust Melody are a great example of what can be accomplished with consistent work and putting the relationship first.  Nancy and Melody just got word that they passed their Liberty Audition with a Level 4+!  Congratulations Nancy and Melody!  (For those of you that aren't aware, Melody was bred and raised right here on my ranch and is half-sister to my Annie.)
Register for a clinic here – http://www.christirains.com/clinic-schedule/
I'm looking forward to seeing you this fall!
Happy Trails,
Christi Rains
"The more I learn, the smarter my horse gets."
Please follow and like us: